Power in Christ
Smith Wigglesworth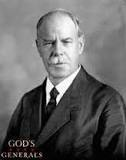 "Thousands came to Christian faith in his meetings, hundreds were healed of serious illnesses and diseases as supernatural signs followed his ministry. A deep intimacy with his heavenly Father and an unquestioning faith in Yahweh's Word brought spectacular results and provided an example for all true believers of the Gospel.
Audio message presented by Roberts Liardon" Listen to MP3
Click here to listen to more recordings by George Stormont.
Put that Milk Down and Eat Some Jerky!
"There is rejoicing in Heaven when someone is born again into the Family of Yahweh. We begin our spiritual lives as babes in Christ. As babies of Yahweh, we feed on the milk of His Word for our spiritual growth. This diet of milk must be changed to strong food if we are expected to mature into adults in Christ. Every Christian's aim should be to grow up into the Body of Christ which is to become Spiritual [pneumatikos]. Why? So we can build up one another as members of the Body of Christ. So we can extinguish every fiery dart of the wicked one. Yahweh's will is for us to mature by eating and putting on the meat of His wonderful Word. Yahweh has given us the instruction book for spiritual growth. The Greek word "teleios" expresses Yahweh's will for us to grow up." Read Complete PDF Article
Speak unto the Mountain
"The Egyptians were pursuing the children of Israel, whose backs were against the sea. Fear and unbelief rose up into the hearts of the children of Israel. They cried out to Moses, while Moses cried out to Yahweh for deliverance. Yahweh told Moses to "quit crying to me," and split the sea. Moses believed the words of Yahweh, thereby entering into the supernatural, which released his supernatural authority and power given to him by Yahweh. The sea obeyed Moses! "And Yahweh said unto Moses, What outcry would you make unto me? Speak unto the sons of Israel, that they go forward; and, you, lift high your staff and stretch forth your hand over the sea and cleave it asunder" (Ex. 14:15-16). In order to live out our lives for our Father, in the fullest capacity, we must know who we are and what authority and power we have been given. Moses learned about his supernatural authority and power from his teacher, who was Yahweh. As children of Yahweh, do we exercise our supernatural authority over a problem with a command, as Yahshua did to the great tempest, or do we ask our Father to solve our problem in a prayer? Christianity does not question the supernatural power and authority that spirit beings have but when these same individuals examine their own lives, they are fully aware that they lack supernatural authority and power; they doubt their authority as children of Yahweh. We will see in the scriptures that our Father has placed His children into a sacred position, just below Himself. If you believe and act upon these truths in the Word of Yahweh, you will release supernatural authority and power upon the earth. As Christ said, "All things, are possible, to him who believes."Read Complete PDF Article
Stoking the Fire
"The spirit of Yahweh is our lifeline to Yahweh. It can change a coward into a mighty man of valor. Deborah, Gideon, David and Yahshua lives, to name a few, have illustrated the spiritual deliverance that is available when you act according to the spirit of Yahweh. You too can be more than a conqueror. The spirit of Yahweh has clothed you with power as it clothed Gideon. Ordinary people with a heart to serve can be transformed into heroes if they will but stoke the fire and obey the spirit of Yahweh." Read Complete PDF Article
Supernatural Deliverance through the Spirit
"Father has empowered us with nine manifestation of the spirit. This is in order that the Body of Christ is fully equipped to impart supernatural deliverance to mankind, by way of this spirit. This is the same spirit we received when we were born again. The three manifestation of the spirit we are going to examine is faith, gifts of healings and the energizing of powers, but especially faith. We are going to look at three kinds of faith that I see in the Bible. I will call these natural faith, supernatural faith and revelation faith. Natural faith will be classified as, "performing natural actions and expecting natural results." For example, when I commit my body to sit in a chair I am exhibiting faith (trust) that the chair will hold me up and I will not go crashing down to the floor. Natural men exhibit this kind of faith, which is not supernatural." Read Complete PDF Article
The Miraculous Healing of Betty Baxter
"Betty Baxter was a young girl who was horribly bent and twisted and crippled for fifteen years. She endured enormous suffering because of her multiple infirmities. According to the doctors there was no hope for her deliverance. Her mother and she believed the scriptures that all things are possible to those that believe. Reading, as well as listening, to Betty Baxter's testimony is an extremely moving experience that has a miraculous ending." Read Complete Article OR Listen to MP3 OR For a DVD